Louise Mercier is a high-profile senior industry defense consultant, expert in Canadian defense procurement practices and policies, specializing in industrial win-strategies. Ms. Mercier brings twenty-five+ battle-hardened years of experience to Canadian military acquisition process and is expert in the practices and policies of the defense procurement process. As such she has held high profile positions as Vice President Defense Procurement at Hill & Knowlton and Senior Vice President at Rubicon Strategy.
Named as one of Canada's Top 10 Defense Lobbyists in 2018, she is best known for providing clear, crisp strategic counsel to win large complex multi-million-dollar military equipment programs with modern, partnerships and alliances.
She is best known for her strong relationships at executive levels of industry, government and the defense media, and increasing companies' probability of win in major competitions.
Ms. Mercier provides strategic guidance and specific support to help build and implement capture strategies complex, military industrial programs, ranging in value up to $26B. Her insights, and crisp strategic counsel through the full range of the business capture processes (competitive analysis, price to win, probability of win strategies, strategic partnerships) has been the key to her client's success.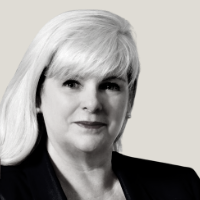 Louise Mercier
Managing Director, Defense & Security