Jere Sullivan has three decades of experience in international crisis and issues management, public affairs and communications. He has assisted clients across many sectors in building programs to raise awareness of their brands and causes with key stakeholder groups worldwide. In this capacity he has organizes partnerships with NGOs, think tanks and recognized third parties, focusing on human rights, environment, education and international affairs.
In his 30 years at Edelman, Mr. Sullivan has worked directly with the leadership of multinational corporations including Volkswagen, Heineken, Bunge, De Beers, Sime Darby, Microsoft, Walmart, Syngenta, Experian and SABIC; major U.S. trade associations and foreign governments. He also serves as the global gatekeeper for a number of major clients counseling them on issues management, public affairs and image campaigns in the U.S., the European Union, Asia and the Middle East.
In this capacity he has represented a variety of governments and multilateral institutions including the World Bank, United Nations, and the G20 in Argentina and the B20 in Saudi Arabia. He is intimately familiar with international relations having lived and worked in major capitals around the world.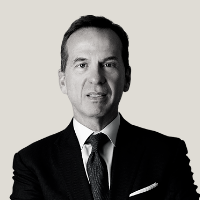 Jere Sullivan
Chairman, International Public Affairs