Feargal Purcell is Managing Director – Strategic Advisory in Edelman's Global Advisory Business in Dublin and Vice Chair EMEA. He draws on extensive business, political and communications experience in providing counsel to senior clients on strategic positioning, government relations, reputation and crisis management and problem solving. Mr. Purcell has secured successful outcomes for numerous clients across many sectors, including Primark, Airbnb, KBC, Unilever, Littlewoods, and the Irish Banking Culture Board amongst others. Mr. Purcell's approach is to facilitate businesses in becoming understood, esteemed, and supported by public, political and private audiences through effective positioning, compelling communications, and dynamic stakeholder engagement.
Prior to joining Edelman, Mr. Purcell served as Government Press Secretary to Taoiseach (Prime Minister) Enda Kenny T.D. for six years. In that role, he had responsibility for framing communications and positioning strategies across government activity and public policy and led on all aspects of government communications. Mr. Purcell provided strategic counsel to the Taoiseach throughout the period 2011-2017, as Ireland sought to regain its financial independence and return the economy to prosperity. He was reappointed as Government Press Secretary in June 2017 by Leo Varadkar T.D. providing the then Taoiseach (Prime Minister) with strategic political and media counsel for a six-month transitionary period.
Before entering politics, Feargal served as an Army officer in the Defence Forces for 18 years in a variety of leadership roles, including service on United Nations Missions overseas in Lebanon and Bosnia and as a lecturer in the Military College before becoming spokesman for the Defence Forces, until leaving to enter politics in 2008. Mr. Purcell has a master's degree in international communications from Dublin City University and contributes regularly to media discussions on politics and policy. Mr. Purcell is family focused, has a keen interest in literature and sport and helps to coach his local Hurling team.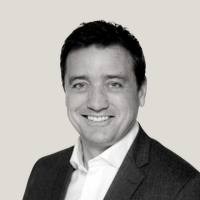 Feargal Purcell
Vice Chairman, Europe