EGA Five Facts to Know: President Biden Launches Reelection Campaign
In what is becoming the standard way to launch a presidential campaign, President Biden announced Tuesday on Twitter that he is seeking a second term as President of the United States. His announcement isn't just about the Oval Office. Biden is setting the scene for the 2024 Congressional elections, where the entire House and one-third of the Senate will be up for grabs.

The Biden campaign launches against a backdrop of economic anxiety and existential societal fears. Eighty-five percent of people worry over job loss in the near future while almost two-thirds of the nation is concerned about inflation and climate change (Edelman Trust, 2023). In order to address these concerns head-on, Biden must build a broad coalition.

As with all incumbent presidents, Biden's announcement sets the tone and framework for the entire party — regardless of their enthusiasm for him as their leader. Declaring that the soul of the nation is still at risk and asking voters to give him four more years to "Finish the Job," the President taps into themes that the last few Democratic candidates, including Clinton and Obama, used to define their campaigns. Over the next 560 days, Biden hopes to make a compelling case that he can lead Americans together to meet the challenges of the nation head-on — for just a little longer.

Here are five facts to know about Biden's official reelection announcement:
1. President Biden Wants to "Finish the Job!"
In the tweet and video announcing his reelection bid, President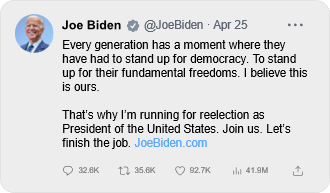 Biden says that the soul of America is still at stake and challenges voters to ask themselves if they want more freedom or less. Biden points to "threats to democracy," citing January 6th, the repeal of Roe v. Wade, and ongoing threats to Social Security and marriage equality. The video also features healthcare activists, organized labor union workers, voting rights activists and veterans, among others.
Also spotted: Barack Obama, Dr. Biden, BTS, Justice Ketanji Brown Jackson, and a lot of Vice President Kamala Harris (see Fact #5).
While these launch videos are designed to galvanize the base and stimulate initial fundraising numbers, these announcements also signal where Democrats feel they are strong. Clearly, Biden is proud of his appointment of Justice Jackson to the Supreme Court — the only accomplishment he hints at in the video — and Democrats believe they can make a successful case to reinforce social security and also fight for economic equality, reproductive freedom, and solidify marriage equality. Over the next two years, expect this mix of social and economic issues to crowd the political, public policy, and cultural conversation as candidates in local races either tie themselves to the President or set themselves up as a foil.
2. Americans Are Skeptical of a Biden Candidacy
Biden's approval ratings are 42% — lower than ideal for a reelection bid. Part of his challenge is what Americans perceive as a lackluster economy. In March, just 31% of adults said they approved of the President's economic performance. But much of the tepid response to Biden has to do with his age. If Biden wins reelection, he'll be 86 by the time he leaves the White House (Trump would be 82). In a recent poll, 61% of registered Democrats said President Biden, at 80, was too old to work in government, while 35% of registered Republicans said Trump, at 76, was too old.
But incumbents rarely face serious challenges for renomination. Biden voters are overwhelmingly supportive of his policy agenda and how he's handled the economy — even if they are simply accepting his candidacy rather than supporting it outright. And presidents are generally successful when running for reelection. (In the history of the Republic, only 11 incumbents have lost reelection, the most recent being President Trump). Compared to other candidates, Biden will have all the advantages of the modern presidency at his disposal — Air Force One, the ability to speak to the nation at any moment, and the title Commander in Chief — and he's able to campaign just by doing his job: signing legislation, shaking hands with heads of state, and attending key events. Despite the approval ratings, the scales are tipped in Biden's favor.
3.Biden's Opponents Are MAGA Extremists
While it might be easy to say Democrats are running against "President Trump" for the fifth time (2016, 2018 in the midterms, 2020 in the general, and 2022 in local races), Biden's reelection video makes clear who he thinks he's running against: "MAGA extremists."
It's too early for the President to know who his GOP general election opponents will be, but President Trump, Ambassador Haley, and Governor Asa Hutchinson have all announced bids for the Republican nomination. Biden's video makes it clear that Democrats plan to run not only against policy issues like abortion bans and potential cuts to social security, but against the ideas MAGA extremists bring to the table, including book banning, the restriction of voting rights, and the rollback of rights for the LGBTQ+ community. Biden's video purposefully flashes images of Rep. Matt Gaetz, Rep. Marjorie Taylor Greene, and an image of Governor Ron DeSantis and President Trump when discussing MAGA extremists.
The term "MAGA extremists" speaks directly to moderates and liberals. After debriefing the 2022 election, Democrats and Sen. Mitch McConnell cite Republicans' lackluster performance in the 2022 midterms because of inexperienced and unlikely candidates like Hershel Walker and Kerri Lake crowding the Republican landscape. Most Trump aligned candidates, including those who backed false claims about the 2020 election, were rejected by the electorate.
Because Biden has continued to use the term "MAGA extremists" and married it to his 2024 campaign, we can expect the two political parties and their supporters to only grow more polarized. This also means that, while independent and moderate voter bases continue to grow, extreme political narratives will drive further divisions in the nation.
4. Republicans Preview Their Counter-Biden Messaging
In a "Beat Biden" response video, Republicans imagine a future of immigrants flooding the border, civil unrest, a new drug war, and an emboldened China. The message: Biden is a "weak" president and four more years will escalate international tensions, crumble our financial systems, take away our borders, and worsen crime.
Speaker Kevin McCarthy, one of the most powerful Republicans in Washington, tweeted that "Biden should have announced he will finally come to the table and negotiate a responsible debt limit increase to avoid the first default in our history." Not only is the Speaker working to undo some of Biden's legislative accomplishments — the Inflation Reduction Act, for example — expect Republicans to repeatedly target the economy, or what they term President Biden's Achilles Heel.
5. What About Vice President Kamala Harris?
The Vice President is prominently featured in Biden's reelection video — her name is part of the Biden-Harris logo after all.
By the numbers: President Biden appears 93 times in his reelection video. Vice President Harris appears 16 times — over half of those by the President's side. Justice Ketanji Brown Jackson: 6. BTS: 1.
Kamala Harris has worked in the background throughout the Biden presidency as she does one of the most thankless jobs outlined in the Constitution. While Harris has bolstered her foreign policy credentials (with favorable reviews abroad), she has suffered domestically in attempts to tackle divisive issues, including the roots of immigration issues in South America and the US Southern Border.
But Vice President Harris has shown that she can be an effective deputy to the President and a staunch advocate for a key political and cultural issue: reproductive rights. Just this month, the Vice President convened student leaders in Reno to deliver a message: It's time to build a movement to protect abortion access. Harris can continue to advocate in several areas, adding a youthful, personal touch where needed to bolster the President's campaign.
What does this mean for business?
In 2020, an estimated $14.4 billion was spent on political ads and operations. This year we are looking at an even larger number. These ads drive up the cost of both digital and traditional advertising and make it more difficult to pitch your priorities to the media.

Election cycles also increase the likelihood of political tensions among employees in the physical and digital workplace. Brands and companies must understand that during an election cycle, heightened polarization can impact communications. Organizations should consider their external and internal communications through a political lens to avoid unexpected consequences, such as partisan scrutiny or reputational risk.