At a Glance:
Jacinda Ardern has announced she will resign from her role as Prime Minister of New Zealand on February 7, 2023.
Elected at age 37, Ardern was the youngest female head of government in the world when she took office and the first to give birth while in office.
Ardern is also resigning from her party leadership and said she would not lead Labour to the next general election, slated for October 14, 2023.
The next Prime Minister and leader of the Labour Party has not yet been determined – the incoming leader will have to tackle mounting challenges and polls show the electorate is uncertain if it wants another Labour government.
Jacinda Ardern has announced she will depart the political stage as New Zealand's Prime Minister ahead of this year's election, saying she no longer has "enough in the tank" to lead. The unexpected announcement, which sent shockwaves in New Zealand and around the world, came as polling indicates the incumbent Labour party faces an increasingly difficult path to re-election on October 14.
When she came into office, the Labour leader had lofty goals for reducing child poverty and making homeownership more affordable for New Zealanders, but ultimately she spent much of her time steering her nation through crises.
Labour campaigned on KiwiBuild as the housing crisis solution, promising 100,000 houses in 10 years, but with just 258 houses built as of September 2019, the policy was 'reset' — and the targets were dropped. This policy has continued to be a source of political pain for the Prime Minister and Labour. The country's housing problem is now the subject of an investigation by the New Zealand Human Rights Commission. In addition, official statistics reveal that the housing issue has worsened during Prime Minister Ardern's term.
Another stated priority was addressing child poverty in New Zealand. While slight improvements were made, it remains worse in New Zealand in comparison to other developed nations.
At the same time, Ms Ardern's legacy at home and internationally came to be defined by her leadership through the Whakaari White Island disaster, the Christchurch terrorist attack, and the COVID pandemic. While views on her management of these issues was mixed, she was lauded domestically and internationally for her compassionate style and for fiercely advocating for New Zealand's interests on the world stage.
While Ms Ardern's announcement was met with tributes from around the world, the timing seems pragmatic. She has chosen to leave on her own terms and resigned in her own unique, forthright style. Political and media commentators in New Zealand and across the Tasman Sea in Australia have been highlighting that a changing of the guard is needed. Her government's economic management has delivered New Zealanders a sclerotic economy, which has been particularly hit hard by global headwinds including inflationary pressures. 
In a major opinion poll published in New Zealand before Christmas, 61% of respondents said the economy world be worse in the coming year, just 18% said better and 21% said it would be the same. 
This is in line with Edelman's 2023 Trust Barometer that shows that personal economic fears, such as job loss (89%) and inflation (74%) remain top of mind for people around the world.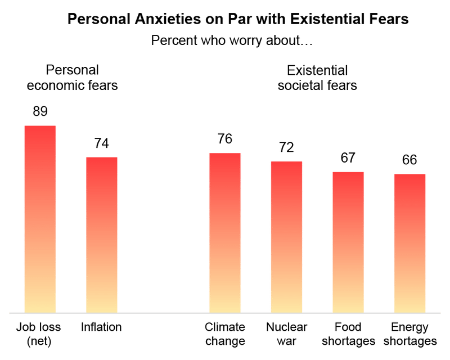 The major opposition party, National, has been relatively united under the leadership of Chris Loxon, a relative newcomer to politics following a successful career in private enterprise. Mr Loxon, former CEO of Air New Zealand, one of the nation's most iconic companies, is seen as a real contender to form a coalition government in October. 
At the time of writing, there is no clear successor to Ms Ardern, with her deputy, Grant Robertson, having ruled himself out. The party's caucus in Parliament will hold a vote on January 22 and, if two-thirds agree, will replace the prime minister immediately – or else, Labour's members will be included in the vote.  
It remains to be seen who will become the new leader for Labour and New Zealand and whether they can reverse the political tide that seems to be going out for the incumbent. Whatever the near future holds for New Zealand, Jacinda Ardern's positive and strong standing on the world stage means she is likely to influence leadership for some time to come.