Ambassador Elnaggar is Chairman of the Board at Suez Cement – Heidelberg Cement and CEO of EN Investment. Previously, he served as CEO of the Chemical Industries Holding Company (HIHC) and prior to that as Egypt's Principal Deputy Minister of Planning, Monitoring, and Administrative Reform and Principal Deputy Minister of Investment. ​
Ambassador Yasser Elnaggar has more than 25 years of experience as a career diplomat. From 2010 to 2014, Elnaggar served as the Deputy Chief of Mission of the Embassy of the Arab Republic of Egypt in Washington, DC and was a voice for his country during this time of transition in Egypt. ​
Elnaggar has significant experience serving in or working with multilateral institutions. He was Senior Policy Adviser to the Presidents of the 61st and 64th sessions at the General Assembly of the United Nations, Director of the Department of United Nations Affairs at the Ministry of Foreign Affairs in Egypt, Counselor at the Permanent Mission of Egypt to the United Nations as well as Advisor to the Minister of Foreign Affairs of Egypt and to the Secretary General of the League of Arab States. He continues to advise a number of influential leaders. ​
Ambassador Elnaggar received his B.A in economics from Cairo University and his M.A. in social sciences from the University of Chicago, and he also has a post-graduate diploma in international relations and development from the Netherlands. ​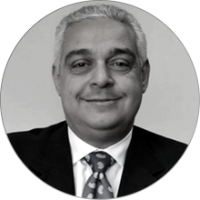 Yasser El Naggar
Chair, MENA