Everett Eissenstat serves as the Chair for US and Canada and Global Trade Lead for EGA where he leads a team of policy, political and technical experts to provide business, NGO's and thought leaders with integrated strategies and counsel on regulatory issues and policymaking including in the areas of automotive, financial services, food and beverage, health, manufacturing, retail, and technology. Mr. Eissenstat also leads EGA's Global Trade practice in advising clients seeking to leverage government policies, international institutions, and geopolitical dynamics to achieve their strategic international economic and trade objectives.
Mr. Eissenstat most recently served as the Senior Vice President of Global Public Policy at General Motors where he was a key advisor to the CEO and led a team of government relations professionals.
Prior to joining GM, Mr. Eissenstat served as Deputy Assistant to the President for International and Economic Affairs and Deputy Director of the National Economic Council. Reporting to the President, the National Security Advisor, and the Director of the National Economic Council. Everett coordinated interagency policy development and implementation on international economic policy matters. He also served as the President's personal representative and principal negotiator to the G-7 and G-20 economic summits and led interagency preparations for all international summits, including the Asia-Pacific Economic Cooperation (APEC) Forum, the Summit of the Americas, and the United Nations Climate Change Conference (UNCCC).
Previously, Mr. Eissenstat held key roles in the House, Senate, and the Office of the US Trade Representative. As Chief International Trade Counsel for the Senate Finance Committee (2011-2017 and 2001-2006), he built and led professional international trade policy teams for two chairmen and negotiated and gained the approval of legislation implementing bilateral trade agreements with Korea, Panama, and Colombia.
As Assistant US Trade Representative for the Americas (2006-2011), he led negotiations of comprehensive bilateral free trade agreements with Colombia, Panama, and Peru, as well as the Dominican Republic. Mr. Eissenstat also served as Legislative Director for Rep. Jim Kolbe.
Mr. Eissenstat holds a JD, cum laude, from the University of Oklahoma, an MA in Latin American Studies from University of Texas at Austin, and a BS in Political Science and Spanish from Oklahoma State University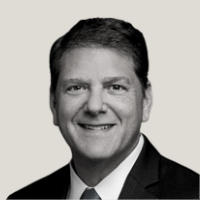 Everett Eissenstat
Chairman, North America