Today, President Biden signed an Executive Order on Ensuring Responsible Development of Digital Assets that outlines a national policy for digital assets, including cryptocurrencies. This was a long-anticipated move that directs a "whole-of-government" focus on the emerging asset class and could lay the groundwork for regulatory clarity in the future.
Issue:
While some national governments have taken proactive steps to regulate (or ban) cryptocurrencies and digital assets, the U.S. has yet to develop a clear regulatory framework. With the growing adoption of digital assets, and the recognition of its potential risks and impacts, the Order aims to address six key priorities: "consumer and investor protection; financial stability; illicit finance; U.S. leadership in the global financial system and economic competitiveness; financial inclusion; and responsible innovation." The Order comes at a time when there are some concerns that cryptocurrencies could be used to evade recent sanctions. In fact, the U.S. Department of Justice announced the "launch of a new interagency task force, the KleptoCapture Task Force, focused on enforcing the recent U.S. financial sanctions and other economic countermeasures against Russia related to its invasion of Ukraine." In addition, Sen. Elizabeth Warren is also drafting legislation to "make it harder to use cryptocurrency to evade sanctions."
Why it matters: 
A recent survey conducted by a16z shows that "one in five Americans now owns digital assets…and the vast majority of Americans agree that digital assets are the future." And in Congress, there is bi-partisan interest in developing a framework for digital assets. Given this backdrop, some in the cryptocurrency space say that today's Order is a "watershed moment" and could be an opportunity to engage more actively with policymakers on related issues.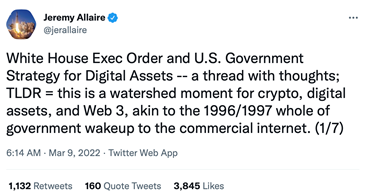 "President Biden's historic executive order calls for a coordinated and comprehensive approach to digital asset policy. This approach will support responsible innovation that could result in substantial benefits for the nation, consumers, and businesses. It will also address risks related to illicit finance, protecting consumers and investors, and preventing threats to the financial system and broader economy."

–Janet Yellen, Secretary of the Treasury 

 

"One thing that today's action makes clear—Congress must legislate. We need bipartisan solutions developed through a thoughtful and transparent process that includes market participants—not anti-innovation policies. Members of the House Financial Services Committee on both sides of the aisle are already examining the issues and opportunities raised by digital assets. President Biden must work with us."

–Congressman Patrick McHenry (NC-10), Ranking Republican Member on the House Financial Services Committee
What does it mean: 
While there is no immediate regulatory action stemming from the Order, it represents an acknowledgement from the highest U.S. office of the growing importance of digital assets. Here are some key takeaways from our analysis, the Order:
Directs the Treasury Department and the Financial Stability Oversight Council to advise on policy and regulatory actions.
Encourages relevant agencies to coordinate with international counterparts to begin development of global frameworks for cooperation and risk assessment.
Advises the Commerce Department to begin thinking about how best to support growth in digital financial technologies.
Directs the government to take steps to support privacy and security of digital assets.
Directs the Treasury Department to produce a report on financial inclusion and the evolution of digital assets.
Directs the Federal Reserve to continue its research on Central Bank Digital Currency.
Given the evolving regulatory environment around digital assets, companies in the space should continue to closely monitor policy activity in Congress, and across federal agencies. Companies should also outline clear policy positions and recommendations as they engage policymakers and key stakeholders.
Contributions from Rachel Millard and Hyun Shin. For questions about Edelman Global Advisory's technology policy perspectives, please contact Hyun Shin (hyun.shin@edelmanega.com).
For questions about Edelman's financial communications expertise, please contact Rachel Millard (rachel.millard@edelman.com).