Kristen Smith
Senior Vice President, Head of Health Public Affairs and Policy Communications
Edelman Global Advisory recently caught up with Kristen Smith, EGA Senior Vice President, Head of Health Public Affairs and Policy Communications on her professional experience, what she'd be doing if not working at EGA, and her hobbies outside of work. See our interview below and keep up with Kristen on LinkedIn.
EGA: What excites you most about your role at EGA?
KS: I'm really excited about building something new with our EGA Health offering, led by EGA Health Chair Joe Damond. We have such a great mix of health policy and public affairs expertise that we can bring to clients. I'm excited to see what opportunities lie ahead.
EGA: What would you say is your personal area of expertise?
KS: I've really spent my career at the intersection of communications and government affairs. The two disciplines within an organization often speak very different languages, and I love being able to be a translator and a bridge. So much can be achieved when the two work together towards shared goals. I also love to write!
EGA: If you could give yourself one piece of advice at the start of your career, what would it be?
KS Build a network, and then take the time to keep up with it. The people I started and have continued my career with over the years (my "work friends") are some of my best sounding boards, confidantes, and close friends.
EGA: What past work project or accomplishment are you the proudest of and why?
KS: Speechwriting for the Secretary and Deputy Secretary at the U.S. Department of Energy. I had never done anything quite like that before, and it was a lot of fun. I also had the chance to work on a "History of DOE" exhibit in the lobby of the Forrestal building – it might still be there if anyone is interested!
EGA: What would you do if you weren't doing this?
KS: Traveling. I love visiting new places and learning about and experiencing different cultures.
EGA: If you could invite 3 people (living or dead) to a dinner party, who would you choose and why?
KS:  One would definitely be a historical figure, like Queen Elizabeth II; she saw so much during her lifetime. And then maybe my dad's mom, who was British and the only grandparent I never met. The third person would be my husband. He asks better questions (and more of them) than I do!
EGA: How do you like to spend your time outside of work? Do you have any special hobbies or interests?
KS: I'm currently working on a master's at GWU, so that keeps me pretty busy. Other than that, I like to run (outside preferably) and spend time with friends and family and my little Boston Terrier, Cora, who is truly the best pal one could ever hope for.
---
About Kristen Smith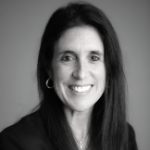 As Senior Vice President, Head of Health Public Affairs and Policy Communications, Ms. Smith provides EGA's health clients with strategic counsel across policy, public affairs and value, access and advocacy issues. 
She has more than 20 years of experience in public affairs and policy communications, stakeholder engagement, strategic messaging and positioning and grassroots advocacy, with a focus in health care and in the payer space specifically. She has worked side-by-side with federal and state government affairs and communications teams to build support around advocacy objectives and bolster reputation before policymaker and key influencer audiences. 
Her health care experience includes roles at Aetna (now a subsidiary of CVS Health) and the Health Insurance Association of America (HIAA) (now part of AHIP), as well as the U.S. Food and Drug Administration (FDA), and America's Blood Centers. She also has worked with a wide range of payer, provider and biopharmaceutical clients. 
Ms. Smith also served as a speechwriter for the Secretary and Deputy Secretary at the U.S. Department of Energy during the George W. Bush administration. Prior to joining Edelman, she led global policy communications for Caterpillar. 
Ms. Smith earned her B.A. in political science and Spanish from Middlebury College in Vermont, where she also studied German.